December 2019 Trinidad and Tobago Orchid Society Christmas Meeting.

The Christmas meeting will be held on Sunday 15th December at 10:30 AM at the home of Committee Member Anthony Navarro.

There will be a Show Table and a Raffle. New Members are reminded that in the first year of membership there is a prize awarded at each meeting to the best New Members Plant.

A Country Christmas Lunch is being catered, members interested are asked to call our Treasurer ( Gervais de Matas 368 4399 or contact at gerve123@yahoo.com) before December 6 to make booking and arrange payment.

Members are asked to wear white and flat shoes for walking in the garden.

Directions to Mamoral:
- At Chaguanas, from Sir Solomon Hochoy Highway take the Southern Main Road from Chaguanas east to Montrose,
- continue on Caparo Valley Brasso Road through Longdenville to Caparo,
- at Caparo keep left to Mamoral. Anthony's home is 205 Mamoral Main Road opposite Mamoral RC Primary School.
It takes about 30 minutes to drive there. If you can use WAZE it works well.

Best wishes and seasons greetings to all TTOS Members from the Management Committee. We look forward to your participation in Society Activities in 2020.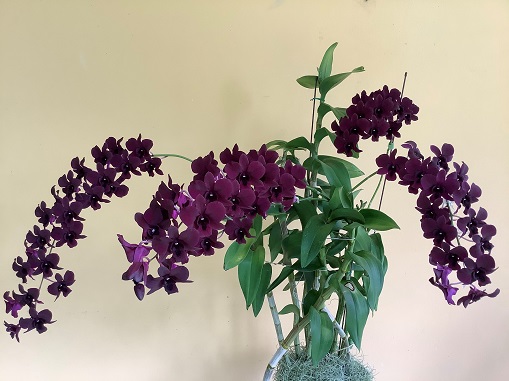 Helen Holley's prize winning dendrobium Den. Helen Holley HCC/AM shown at the November TTOS Meeting